Conference Theme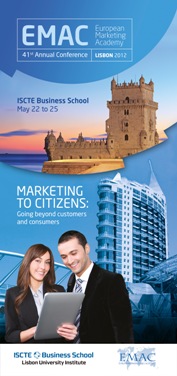 Marketing to Citizens
Going beyond Customers and Consumers
Conference Photo Album:
http://www.flickr.com/photos/iscteiul/sets/72157629651977902
WELCOME MESSAGE FROM PAULO RITA, CONFERENCE CHAIR
http://www.youtube.com/watch?v=JMg-cZ-nj4E&list=UUCjCj71vujicaXQZRVZW5Xg&index=1&feature=plcp
JOIN THE EMAC CONFERENCE FACEBOOK
http://www.facebook.com/emaclisbon2012
ISCTE Business School in Lisbon is very pleased to host the 41st EMAC Conference and looks forward to welcoming you in May 2012
The world is changing at a fast pace, challenging us to reflect on the present puzzle and think on the earth we want to build for future generations. Globalization has triggered high levels of intertwined economies never seen before. Population growth in emerging markets and aging population in developed countries is putting pressure on energy consumption and social benefits. Depletion of natural resources is causing extra concerns to an already complex macro environment we have to deal with.
Within this context, technology revolution, namely information and communication technologies have been at the forefront of development and caused an unintended consequence: consumer empowerment. Marketers have experienced the need of going beyond customers in order to cater for consumers. The dynamism of markets and competition have demanded a cross-fertilization approach between first-time buyers, repeat consumers, retention and loyalty strategies, just to name a few. Web 2.0 (social networks, blogs, wikis, video sharing) is giving rise to a new consumer, more aware of the alternatives, expecting firms to play a social role, using e-Word Of Mouth either to recommend brands, products, services or to spread negative comments.
Hence, all forms of organizations (groups, companies, institutions, governments) are being challenged to look at their target markets not only as customers or even consumers but as citizens who are beyond mere numbers, and have the will and intelligence to be involved and give their contribution to an information sharing society. Marketing is the management area better positioned to delve into this path in order to make a better future happen.

******************************************************
Important message to Authors
All notifications regarding final decisions for acceptance of papers to EMAC 2012 have been sent.
If you did not receive your notification, please contact Cristina Setyar- setyar@eiasm.be
Conference schedule and programme is available on the 'Programme' section.

**************
Notifications for EMAC Doctoral Colloquium have been sent
A